Some website companies focus on design. Some indulge in flashy features.
For us, these are only a means to an end – our purpose is to help you get more clients and grow your practice.We can't physically escort people to your therapy rooms. We use the power of the internet to help you reach out to new clients. Your website is your primary presence on the internet, and we use the following AIDAN™ approach to ensure it produces the results you need. It has been developed by us and represents over 15 years of experience.
Attention You need the attention of (the right) people to attract website visitors. We exploit search engine optimisation, social media links and campaigns to raise your profile
Integrity As a therapist your website's first impression must be of integrity. We achieve this with top quality design that is professional, "mobile friendly" and easy to navigate
Dwell Time If your visitors dwell (stay), your communications are working. Update your content with ease, perhaps even maintain a blog or run special offers to engage them
Action Use our Email Contact Form or built in Social Media to encourage visitors to take action and connect with you
Nuture A high performing website takes a little nurturing. Use our reporting tools, handy help guides and expert one-to-one advice to get the results you want
Don't worry if that sounds a little complex. We appreciate that you're a therapist not an IT specialist. Our style is to introduce things gradually and avoid jargon whenever possible. Read on if you'd like to find out more about AIDAN™ or skip it you prefer and go to our next section Technophobes Welcome.
Attention
To attract visitors, start with a top place on Google
Google is a great way of securing the attention of potential clients but with millions of other websites out there, its no simple task getting to the top. What's the secret? WebHealer have a proven, no nonsense proprietary system that we've been developing and refining for over 10 years. We call it SearchMax, and its tuned to the requirements of therapy websites and the needs of professional therapists. We test and monitor regularly and typically find that almost 90% of clients have a page one placement. See our SearchMax page for more information. Our websites also come with a wide range of options for linking in with Social Media and multiplying your exposure. Our built in Twitter feed is very popular for example. In addition we get involved in campaigns to help raise the profile of our customers such as World Reflexology Week and charitable events such as Feel Good Friday with Samaritans.
"Best wishes and thank you for the fabulous service you provide – I am consistently on the first page of Google and get most of my leads from the webpages."
Petra Elliott
www.shiatsuschool.co.uk
Integrity
Build trust with a professional mobile friendly design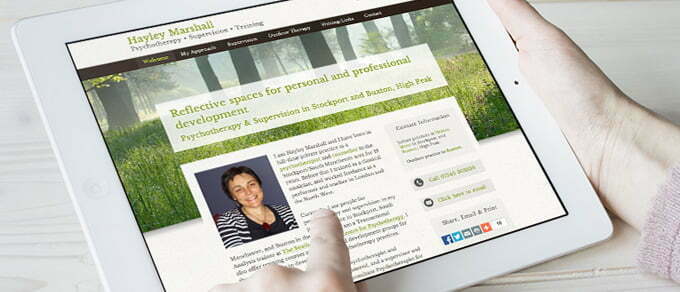 First impressions are always important, and as a therapist your website's first impression must be of integrity and professionalism. Good design achieves its objectives in communicating effectively with its audience. That is how we approach design rather than getting carried away with bells and whistles. See our design page for more about our design approach. Mobile friendliness is also important as you will quickly lose a visitor's confidence if your text is too small to read on a smartphone and your menu can't be found. In fact Google is now penalising sites in its listing that are not mobile friendly. Our websites use advanced 'responsive' coding so that they display generously wide on a laptop or wide screen monitor, but switch to a comfortably readable format for mobile devices. Your design also needs to be easy to navigate, professionally structured and visually appealing to visitors.
"Thank you so much for [your advice], it's really helpful. I shall make some changes accordingly. I've actually noticed a significant uplift in enquiries recently which I imagine is partly due to some considerable content changes I made to my website in December. These changes were influenced by feedback I've received both from yourselves and other professionals, so thank you!"
Candice Johnson
www.candicejohnson.co.uk
Dwell Time
Engage your client's interest with quality content
A lot of people land on websites, stay for a cursory glance, then return to Google and try elsewhere. If you can hold your visitor's hard gained attention so they stay and read more you are increasing "dwell time" and significantly increasing your chance of contact. It comes down to good communication and as well as our one-to-one advice we have prepared guides on subjects such as the use of images to reinforce your message, use of colour and advice on including a photograph of the therapist.The other powerful tool available to you is feedback on how well your clients are engaging with your content, which enables you to try different wording and approaches and then see if people engage more or less. Our visitor statistics reports (see the Nuture section below) includes a simple pie chart which tells you which pages are working best.
"I love the way I can alter my website content at any time and the fabulous new design. I've been recording the number of hits since having my new website, and I have found the number of people who are visiting the site has not only increased but they are now reading all the pages instead of just the home page – thank you!"

Jeanne Rayment Reflexologist
www.jeanne-reflexology.co.uk
Action
Make it easy for your visitor to contact you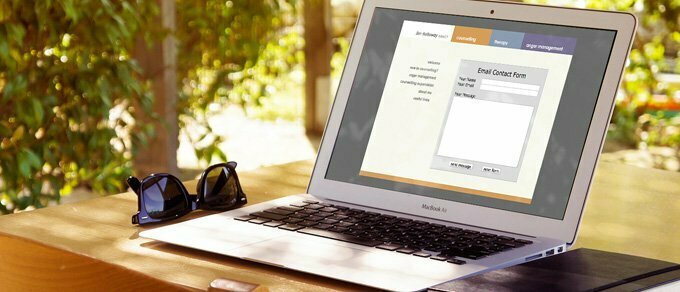 The point at which your website visitor is ready and willing to contact you is a crucial point in your relationship. If they can't find your contact details, or the email link doesn't work you're very likely to lose them. We provide a comprehensive range of methods to reach out to your visitor and facilitate this vital connection.
An attractive Email Contact Form avoids problems with copying email addresses
Social Media links make it easy for a visitor to connect with you via a Like or Follow
Mobile friendly designs are "click to phone" friendly
Use our booking system plug-in to link to free 3rd party services like 10to8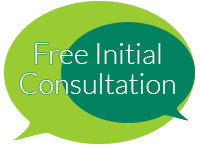 There are also ways of encouraging those who are a little undecided and persuading them to get in touch. If it is appropriate to your therapy area you may make special offers or provide free initial consultations. We have created a range of graphics you are welcome to use in these situations if it is appropriate for you.
Nurture
We're here to help you achieve the results you want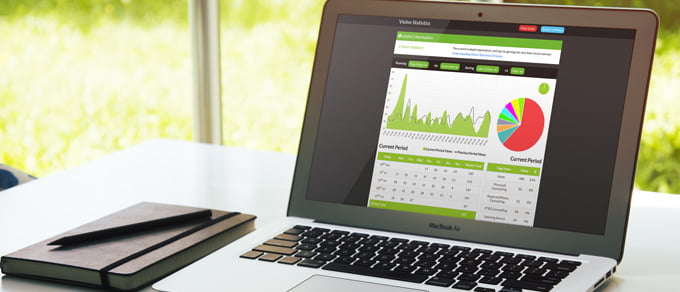 For us its all about results, and our support team are here to help, starting with our initial advice about choosing a website address, layout and design and how to choose what phrases to target on Google. We also have analytical tools to help us diagnose problems if you aren't getting the visitors or enquiries you want.In addition we provide graphical reports you can use, such as the visitor statistics page shown above, which can answer questions like:
Are people staying and reading more pages?
How many people have visited my news page?
Are people finding their way to my special offer page?
Keeping an eye on your website activity and making occasional updates will keep your web pages up to date, relevant and interesting to your visitors. That in itself is key to success. Not only will your website be more appealing to visitors and prompt them to come back, but Google likes websites that are updated. That's why we've made it so easy to make your own changes whenever you like.
"It means a lot, you know – nearly all of my business comes from my WebHealer site. You do a really important job for your clients. And the personal service is a real blessing!"
Sarah Collins
www.reiki-energy.co.uk