SearchMax is a solution that includes many components, most of which are behind the scenes. Some elements you will be exposed to such as the consultation process with our SearchMax consultant to agree which search phrases will be most effective for you. Our consultants have tools as well as experience and will guide you on this, but you may have specific areas of focus, such as art therapy for children, that you want to be found for. Top placement also requires that the content you write is Google friendly, so we have made a control panel which you can check periodically to keep an eye on this, as explained further down the page.Overall there are literally hundreds of elements to SearchMax including research & analysis to test the effectiveness of our latest techniques, as well as monitoring to spot trends and patterns. These are the main areas: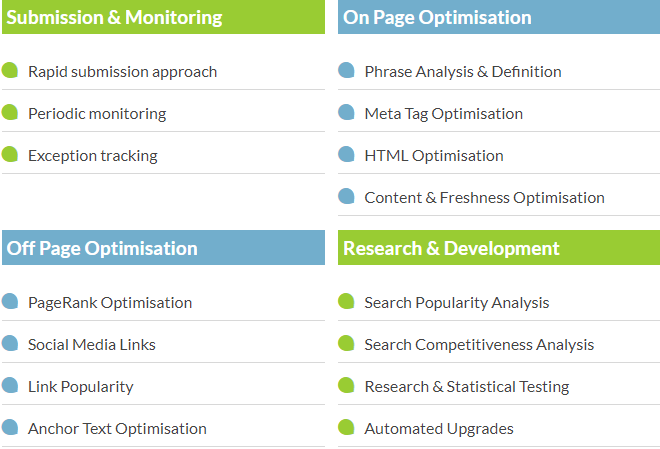 Powerful but simple to apply
Powerful tools that are too complex to use or understand tend not to get used, so throughout the years of developing SearchMax, a key priority has been to keep our approach straightforward for customers. We don't overload our customers with technobabble and advocate "black hat" tricks for cheating a higher Google place. We use plain English and keep the focus on results desired and results achieved.To aid this we have devised a 3 step process.
Phrase Selection: Our trained SearchMax consultants will work with you to decide which are the key phrases to target – those that will reach your potential clients
On Page Optimisation: This is about ensuring Google recognises your website as relevant for these important phrases – this gets you "on the list"
Off Page Optimisation: is a constant process of building your website's online reputation – this is how you climb the list
As much as possible we do this work on your behalf and behind the scenes. The second step does however require customer involvement as the work we do can be undermined if customer content is not "Google friendly". For this reason we created the SearchMax control panel to help.
Your SearchMax control panel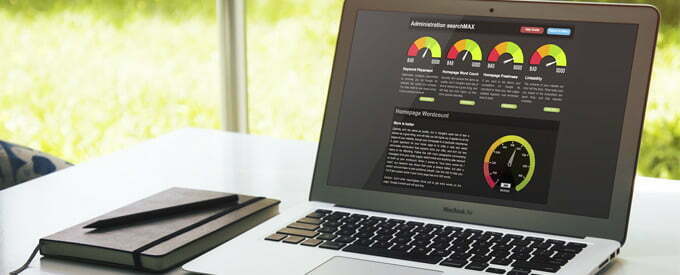 A key element of the process is ensuring that Google recognises your website as being relevant for a particular search phrase, and as simple as this sounds, it is easy to get tripped up. For example if you are a counsellor in Brighton and Hove, but you only mention Brighton and never Hove, then your website is not relevant for the search phrase "counsellor hove". In fact you really need a few mentions so as not to handicap your listings, so we created a set of SearchMax support tools to help with this and other problem areas.
Research & Development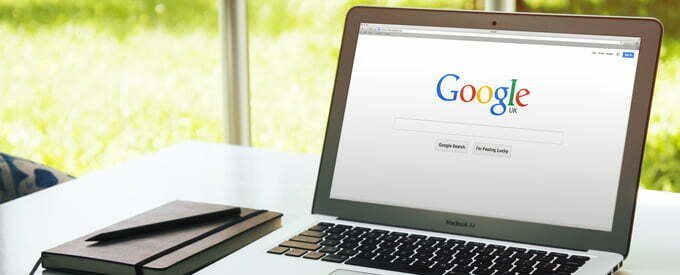 A critical part of the SearchMax service is ongoing research and development. We spend hundreds of hours every year, checking how our clients are performing, testing and recalibrating our SearchMax tools, as well as monitoring the online announcements and discussions around Google's algorithm updates.For example, we know that Google prefers websites that are updated fairly often to keep them "fresh". But our clients are not professional webmasters, so how often is needed? As we are experts in therapy websites we are able to perform advanced statistical analyses to determine good practice in this area and advise our clients accordingly.
Here are a few examples of Google placement which are typical of our clients (checked May 2018).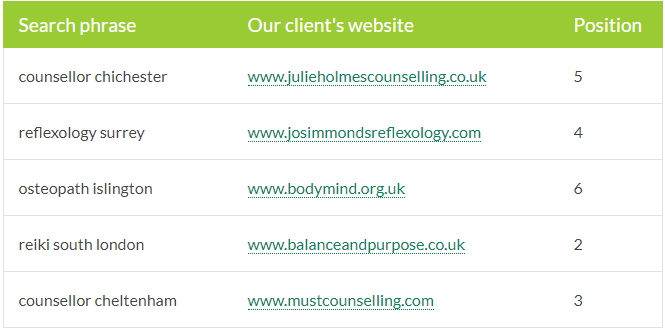 "Thanks for this, however the site works so well that I am full up to the rafters & last week I had to give 3 clients away to other therapists."

Received from our client Anita Hobbs in response to an email from our support team suggesting some tweaks to improve search engine performance

www.anitahobbs.com
Many of our customers come to us for their first website and take the effectiveness of SearchMax for granted, but if you already have a website elsewhere you will know how difficult or expensive it can be to get top placement. In terms of cost we recently carried out some analysis into the typical financial value of our SearchMax system, by comparing the results it delivers for our clients to the alternative of using Google AdWords to get the same visitor activity. The results were a resounding endorsement for SearchMax with the value to some clients of up to £65 per month.