If you're expecting us to baffle you with jargon or present you with a myriad technical options, don't worry! Rule number one when we train our customer support team is to avoid technical jargon whenever possible and use everyday words instead. That same commitment to simplicity applies to using our websites. We give you an editor to update your content, add pictures and change colour schemes but you won't see screens that look like they can run a nuclear power station. We're fanatical about making things easy to use.
Confused about how to get started?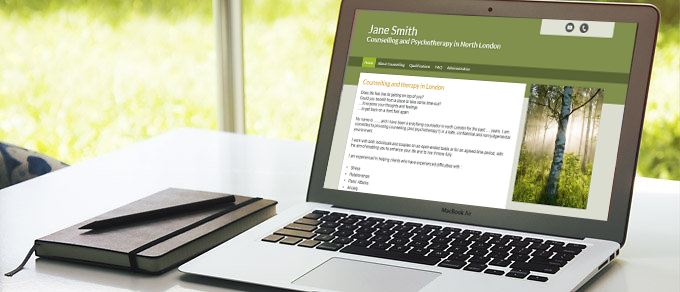 If you've been thinking about a website for a while, and perhaps read up a little or chatted to friends, the chances are you've reached a point of overload:
How do I build it? Who do I choose?
What do I write?
What about design?
How do I organise my pages?
How do I get onto Google?
What does 'mobile friendly' mean?
What else is important that I don't even know about?
Its very easy to get overloaded and feel a little paralysed about what needs to come first. Very often people feel they need to have everything worked out before starting and so never actually do start.
Our technophobe friendly approach will guide you through everything you need to do in simple steps. You don't need everything worked out beforehand, in fact it can be a disadvantage to spend too long preparing as you're likely to want to change things later based on our advice.
A free trial works like this
We have devised a friendly step-by-step approach, simple enough for technophobes and thorough enough for enthusiasts. It begins with a free trial website, but we won't scare you with an empty menu and blank pages. In fact it may well look like the screenshot above. Once you tell us what therapy you do we'll create a typical menu structure and some suggested wording, that you can then modify to personalise. Overall this is our process:
Call us for a chat. Then if you're happy we'll create your free trial on a temporary website address, and send you a link to it the same day
Try out making updates and exploring design options for up to 2 weeks – see our design page for more details. Our support team are available throughout to discuss queries such as options for a website address
If you're happy you can sign up to our service, after which we'll make your practice website live with your choice of website address
Now we'll work with you on a Google strategy, get busy working you up the Google rankings and act as your trusted guide to growing your therapy practice via the web.
Once enquiries start to come via your website we're always there to help you do better
Ready? Just pick up the phone and call us on 0345 557 0300 or click to skip down to our enquiry form.
Simple self updating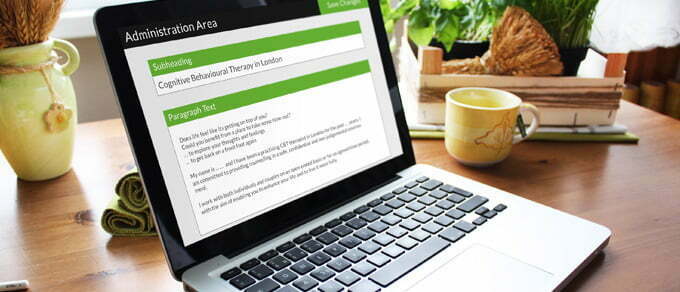 These days most people want to be able to update their own website contents without having to pay a designer. Phone numbers change, new qualifications are gained and new therapy rooms are used. These are the basics but when the editor is so easy to use you'll find so many more things you'll want to use it for:
Adding client testimonials
Referencing new research about your therapy area
Changing photographs
If you can use email you'll have no trouble updating our websites, but don't just take our word for it. We always set up a trial website first so you can see for yourself. We don't do hard sell, and we don't want you to take one of our websites unless its right for you.
"I have been playing with the trial website and discovered that I am either not as computer illiterate as I thought or the website is extremely user friendly. In any case, it has been more enjoyable than I was expecting."

Warmly,

Rehana Nightingale

www.qtm-andfly.co.uk
Friendly experienced customer service
We don't have a huge team of call centre operatives. For a start we don't have any telesales people. Our customers generally come to us through recommendation. What we do have is a small team of customer support people, all of whom have been with WebHealer for quite a few years (the average is currently 6½ years), so they have a lot of experience and know the needs of you, our customers.
We also like to treat our customers the way we would like to be treated as a customer:
Respect and courtesy are fundamental
Customers are individuals with differing levels of ability – communication should be adapted accordingly
Listen, before jumping to conclusions
Explain things in plain English
We like to get to know who we're talking with rather than an army of strangers
That's our view of things, but what really matters is what our customers think. This is what they tell us.
"I'm moving on to develop my life as a ceramicist and writer ( weird combo, but hey ho..variety is the spice of life!) I wanted to write and say a heart felt thank you to all at Webhealer. You've always been great to work with, holding my hand as I learnt how to navigate my way around building and updating my website – thank you all for your patience and professionalism. Many thanks and I wish you all the very best."

– Kathy Kettles
"I'm really impressed that I'm on top of Google with your product. What I really like also is that a small company like yours is better than the largest one. That means that 'small' is not only beautiful but also powerful and this is a profound, inspiring and re-empowering realisation. I feel proud to be the customer of an intelligent human sized company."

-Shabad Gravel

www.aquariushealth.webhealer.net
You're in safe hands
Now and again complications do arise when running a website, and we're there to help when they do. In fact we try to anticipate them and give you prior notice -Â another core principle of our service is "no surprises".
For example, it is likely you will choose a website address ending in .co.uk which is the standard for UK businesses. The organisation that administers all this is called Nominet and you will occasionally hear direct from them if for example they have problems validating your contact details. With all the scams operating over the web these days though, you may be suspicious about emails from unfamiliar organisations so we send you an email letting you know what might happen.
Another complication of running websites is that they can go down, either due to system failure or just for maintenance. As you'd expect we have 24/7 monitoring for problems and to protect our customers we maintain a complete duplicate all websites on a backup system in North America. If there are prolonged system failures or we need to take our systems offline for maintenance, we'll switch your website to our backup.