Introduction
This guide explains primarily how our Email Contact Form (ECF) works, however you will also find that upon enabling the ECF, you will automatically receive an upgrade of the editor within the Administration Area. This will allow you to make the most of the ECF, and also provides useful improvements while editing. In summary, when you enable the ECF, the following changes will take place.
The Email Contact Form will be enabled and the "click to email" link, typically in the sidebar of your website, now becomes a link to your ECF
If you are used to creating links using Linknotes, you will see that this has been upgraded to allow links to other pages of your website (including the ECF) as well as the more usual links to external websites
If you are familiar with the Storyboard Control tool at the top of your editing page (typically used to display multiple pictures on a page) you will see that this has been upgraded to the much improved Paragraph Control tool.
For more details about the upgraded Linknotes, see the section below called Creating click here to email me links. For more information about the Paragraph Control tool, see the separate EZ Guide Paragraph Control Tool. This Email Contact Form guide contains the following sections:
An overview of the Email Contact Form
Activating and testing the Email Contact Form
Creating "click here to email" me links
Frequently Asked Questions
Overview
It is now increasingly common to see email contact forms on websites instead of clickable email addresses. There are two important reasons for this.
If your email address is displayed, it is often picked up by automated systems looking for email addresses in order to build spam mailing lists - this can lead to you getting more spam.
When website visitors send you a normal email, it is possible that spam filters will accidentally stop an important email reaching you.
So, by using a form, you can make sure real contact messages arrive, while hiding your email from spam machines. The Email Contact Form developed for WebHealer clients is intended to replace links on your website which say click here to email or other links which show your full email address.
How it Looks
The image below shows a typical email contact form. The form has its own new special page on your website.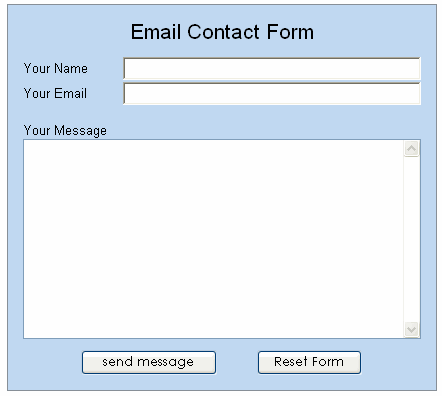 The form is deliberately very simple, as website visitors can be put off making contact if they are presented with a complex form with lots of sections. If you have a requirement for a more sophisticated form, WebHealer offer a more advanced upgrade option call PHD Forms, however it is always a good idea to offer a simple form as your main contact method.
Extra Spam Protection
The contact form has a lot of extra spam protection built in, and it is useful for you to understand this, or you may become confused. In particular please note the following:
The 20 second rule: When you open the contact form, you may want to do a very quick test. If you do this you will get the following message "To protect this form from spam, please wait a few more seconds before submitting". This occurs if you try to send a message within 20 seconds of opening the form, to stop computers trying to do high speed spamming of the form. A real person with a real message will of course take at least 20 seconds to compose it, so they will not see this message.
The Back button: If you send a message, then hit the BACK button and try to send it again, or send a slightly modified message, you will get a message saying "Server Error". Again, this is to stop spam computers sending multiple messages.
Activating and Testing
This section explains how to switch on the Email Contact Form, and to send a test message which will both confirm that all is working, and familiarise you with the format of received messages. The steps required to do this thoroughly are as follows:
Enable the Email Contact Form
Send a test email
Whitelist the sending email
1. Enable the Email Contact Form
This is a very simple step. Simply log in to your Administration Area, and choose Special Features from the side menu. You will then see a section called Email Contact Form, where you can select On from the radio buttons alongisde.

When you save changes, you will notice that if you had a link in the frame area of your website which used to show your email address (or in some designs shows the text "click here to email"), it will now have been replaced by a link to the Email Contact Form. The clickable text will be click here to email. A second minor change is that when you go to your Administration login page, the text that starts "This administration page is reserved for..." used to display your email address as the address where any forgotton passwords would be sent to. That has now been removed in the interests of hiding your email address from spam robots wherever possible.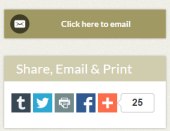 At this point, the only way that a visitor can access the ECF is to click the link in the side menu. This is how it looks on the Social colourMAX design for example. In addition you may wish to add extra links within the wording of your pages that take visitors to the ECF. This is explained in the section Creating click here to email me links.
First though, we should do a quick test, to make sure everything is working fine. This is explained in the next section.
2. Send a test email
Sending a test is very simple. In fact if I had to explain it, we should be worried that visitors won't know how. You are advised to remind yourself of the spam features above though, such as the 20 second rule and the back button rule.
Once you have sent the test message, you may need to wait 5 to 10 minutes for the email to reach your InBox at the address specified in the Special Features section. When you receive the email it will look like this.
From: "Website Enquiry (DO NOT REPLY)" <info@webhealer.net>
To: <your email address>
Sent: Monday, October 05, 2016 11:11 AM
Subject: Contact Email from www...<your website address>
Please note that this is an automated email sent by the WebHealer mail
system. For privacy reasons it is not accessable to staff at WebHealer, and
is not stored on any of our systems. Please do not reply to this email

The following message was submitted to your website at 05 Oct 16 10:49:28

--------------------------------
Sender's Name: <the name entered by the visitor>
Sender's Email: <the email address supplied by the visitor>

message here....
--------------------------------
The contents of this email are confidential to the intended recipient on
the email address to which it has been addressed. It may not be
disclosed to or used by anyone other than this addressee, nor may it be
copied in any way. If received in error, please contact WebHealer on
0870 757 9878 , and then delete it from your system
Note that the email comes from info@webhealer.net. The ECF deliberately uses this address, rather than a different one, since your email system should be used to receiving emails from this address and so it should be very rare that any emails are lost or filtered out accidentally as spam. In fact your email system very likely has a setting that can be used to make sure that it never blocks emails from info@webhealer.net. This is known as whitelisting, and the next section explains more about that.
3. Whitelisting emails from info@webhealer.net
To make sure that visitor emails are never accidentally blocked by spam filters you are advised to investigate your email spam settings, and look for an option to set the address info@webhealer.net as a trusted address. This process is often known as whitelisting - the opposite of blacklisting.
For example in Google Mail, the steps are as follows:
Log in to Google Mail.
Near the top right of the screen, click the little cog there and from it's drop down menu click Settings.
Click Filters within the menu tabs across the screen, under the Settings heading.
Click Create a new filter, and a box appears to create the filter.
In the box, under From enter info@webhealer.net
Then click Create filter with this search at bottom right of the box.
Tick the box Never send it to Spam.
Finally click the Create Filter button.
So for Gmail, you should end up with a filter that says:-

Matches: from:(info@webhealer.net)
Do this: Never send it to Spam
Note that there are other useful things you can use the filters for, such as tagging emails that have the subject line "Contact Email from www.<your website address>" so that they go in a special box to hold all your website contact messages.
Due to the huge variety of email systems available, we can't advise on the steps for whitelisting with non Gmail addresses, but we've found a page online that might be helpful depending on your own email provider. Please note that this page is not under our control, but we hope it's useful, click here to take a look. If you need more help than this though, we would encourage you to contact your email or internet service provider.
Creating Click Here to Email Me links
In some cases the link in the side menu which takes visitors to your ECF page is not very prominent, and you may then wish to supplement it with links at various places within your pages that say "Click here to email me" and take the visitor to the ECF.
To create "Click Here to Email" links to the ECF requires the setting up of internal links using the Linknotes editor. When you launch a website with WebHealer, linknotes is initially disabled to keep your editor simple and uncluttered. Usually clients switch on linknotes when they want to make a clickable link to go to a colleague's website, or the website of a professional organisation. If you have never used Linknotes before, then the first step is to switch on Linknotes. This is covered in Section D1 of the HELP guide in your Administration area, and you can then follow the advice in our EZ Guide Internal Links for how to create a link to your Email Contact Form.
In addition, you may already have your email displayed within your website in various places. For the best protection against spam you are advised to remove all of these, and replace them with links to your ECF.
For protection against spam, remove instances of your email address on your website... replace them with links to your ECF
If you do wish to keep your email address visible on your website somewhere (to remind clients who are already in contact with you perhaps) you can display it once on your Contact Me page, and to avoid spam robots grabbing it you can "disguise it". For example if your email is janesmith@hotmail.com, you could display the following:
email: janesmith-at-hotmail.com (if emailing me, please replace "-at-" with the @ symbol)
Frequently Asked Questions
Do you respect my client confidentiality - in other words can your staff access my emails?
No - as explained in the sample above, the emails are not available to staff and they are not stored on our systems
Is the message secure?
The message has the same security level as normal email - which in fact is not especially secure. If absolute security is needed, then email is not the best method of contact
How quickly will I get the message?
The message is sent from our systems within 5 minutes of the visitor pressing SUBMIT. It may then arrive instantly, or spam filters at different places on the internet may delay it by a short while
Can I have a different design of form with extra boxes?
This basic Email Contact Form is designed to be as simple as a normal email, and does not have options to modify it. If you need extra features, many clients have upgraded to our PHD Forms service which can be designed to your requirements.
Can I make a link in my pages that sends a visitor to the contact form?
See the section above called Creating click here to email me links
What email address will you send the website enquiries to?
Your website already stores an email address, built into the design framework. This is the one that either displays in full, or built into the "click here to email" links that open up a pre-addressed email in the visitor's email software. The Special Features page displays this email address in the section on Email Contact Form.
Can I change the message shown to visitors after they submit the form?
Unfortunately this is not possible, but can be done via our PHD Forms service.