Overview
All WebHealer websites come with a standard Email Contact Form that visitors can access via a link in the sidebar of the website or alternatively via a link you can insert into the text of your website. The form has a fixed layout with minimal complexity so as not to put visitors off. It doesn't for example require a phone number to be entered or ask the visitor to double enter their email as a precaution.
PHD Forms is an upgrade option which supports more complex forms and provides a whole host of additional features.
PHD Forms was upgraded at the start of March 2017. If you were using PHD Forms prior to this, please see the section at the end of this guide highlighting the extra benefits with the new version.
Key Features
Here is a summary of the key features of PHD Forms. There are some examples in the section following this.
The form is designed to your requirements, so it can be a general enquiry form or a very specific client information form. Some fields can be set as mandatory and others optional. See the next section for examples.
Styling can be customised to your needs. See the next section for examples
To protect confidentiality, the information entered is encrypted before it is sent and also encrypted when it is sent to your email address
You can customise the "thank you" message that is displayed after submission
Instead of a simple "thank you" message you can send the visitor to a hidden resource page on your website after submitting. For example you may invite visitors to contact you and part of the appeal might be to gain access to a downloadable information sheet
You can set up auto-responder messages to your enquirer, either to say thank you or to say you'll be in touch within, say, 24 hours
A new section on your Special Features page allows you to easily modify the "thank you" message and auto-responder message whenever you like in order to alert people to your holidays or other unavailable periods
You can have multiple different types of forms and as many as you want - a good option for example is to put one in the sidebar of your Social colourMax design.
You can designate one of your forms as your default enquiry form which visitors get when they click on the contact links in your sidebar. In other words it overrides the default Email Contact Form
The forms include spam blocking tools preventing abuse by spam robots
Examples
PHD Forms can be used in a wide range of situations. Here are a few examples to illustrate the possibilities.
Enhanced General Contact Form
The snapshot below shows how a PHD Form can be used as a more sophisticated enquiry form. The form designer has made some fields mandatory, and has chosen to designate these fields with an asterisk.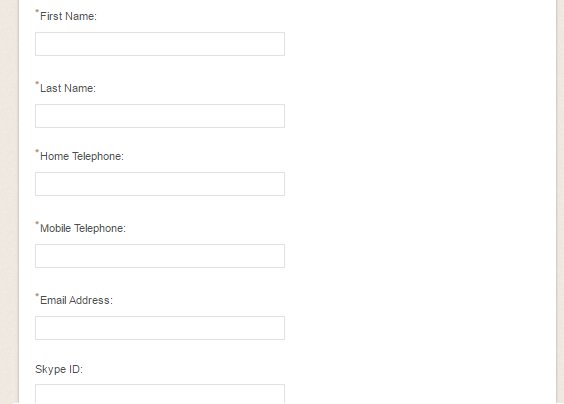 Client Information Form
A client information form may be quite complex and contain multiple sections. In the example below, we have shown just an abbreviated extract from an example used by one of our customers. You can see that in addition to plain text fields, it is possible to add checkboxes and radio buttons, as well as any of the form entry types you will be used to seeing on the web.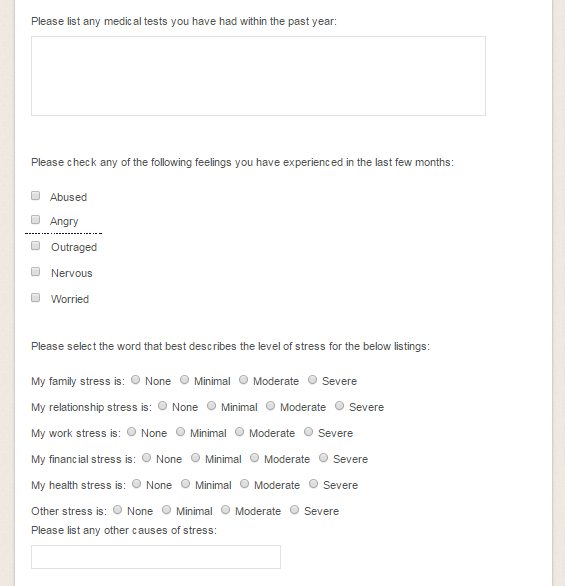 Other Uses
There are many other uses of a PHD Form. Here are some more examples currently used by our customers.
Membership application form
Booking to attend an event
Online questionnaire
Signing up for a course
How to add a PHD Form
Firstly we will put you in touch with one of our design partners who will discuss your form requirements and give you a price for creating it.This varies depending on complexity. It may just have three or four text fields or it may involve several multiple choice options and complex selection boxes. As a guideline a very basic form costs around £25 (no VAT) as a one off charge. If you are happy to proceed you will need to ask the WebHealer support team for an upgrade to our PHD Forms service, which costs £3+vat/month. This covers the form processing and mailing as well as ongoing development of areas such as spam blocking.
Making adjustments to an active PHD Form
Once the form has been created and set up on our systems, you will find a new section on the Special Features page of your website. An example is shown below.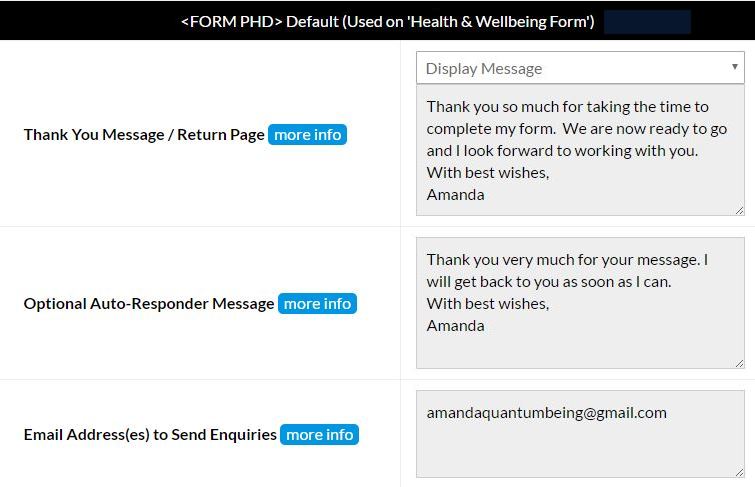 The heading in black shows that these customisation settings apply to a form on the Health & Wellbeing page.
The first "thank you" message contains the words that appear on screen after the form has been submitted. You might change these to give an indication of how soon you can reply, or if you are on holiday. If you have had problems of your emails going to the client's spam folder, you can ask them to check their spam folder here too.
The second "auto-responder" message is optional. If nothing is included the visitor won't receive an email until you contact them. If you enter text here, then they will automatically receive an email copy of the information they submitted, introduced with your message.
Changing Your Default Contact Form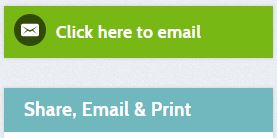 In the sidebar of your design is a link which takes a visitor to a contact form - sometimes it is in the header/footer.This example is from the Social ColourMax layout. You see the "click here to email" above the social media links. This layout includes a second access method via a button in the top right.
By default a visitor clicking this link will be taken to the generic Email Contact Form, but once you have had a customised version created using PHD Forms, you can modify the form visitors get sent to. This is done in the Special Features page again. If for example you have had a PHD form created on a page called "Contact Me", you would set this as the default as below.

Frequently Asked Questions
I tested the form and got two copies of the email. Why?
Don't forget the fact that if you are testing you may be getting a copy on behalf of the enquirer as well as the copy you would receive as the website owner. It is best to submit a test enquiry using a different email address.
I sent a test and nothing arrived. Where is it?
The first thing to do is wait at least 5 minutes. Forms are not sent immediately. This is partly to do with our spam blocking systems. If you don't see it after 5 minutes, check your spam folder.
The enquiry went to my spam folder. How do I stop this?
A big advantage of using forms instead of inviting normal emails is that you know that PHD Forms enquiries always come from the email address noreply@phdforms.co.uk so just whitelist this address to ensure the emails always come through. Whitelisting is sometimes known as a safe sender list. The method varies greatly depending on what type of email you have. Here's a link to an online resource explaining how to whitelist GMail, Yahoo and Outlook.
Does it connect with my calendar for availability? Does it hold enquiries in a database?
At present it cannot connect with online calendars to check availability. The information submitted via the form is emailed to your designated address and then deleted from our systems. If you need a fully fledged online booking system you would need to find a 3rd party service to provide this as a "plug in" to your website. We don't have any particular services we can recommend currently but it is a developing area which we are watching closely.
Benefits of new PHD Forms introduced in March 2017
If you were using PHD Forms prior to March 2017, we hope you appreciate the following improvements introduced by the new version.
Spam blocking. There was only very basic spam blocking in the old version. It is now much improved.
Previously you needed to allocate one of your pages as a "Thank You" page if you wanted to present a message to your enquirer after they submit their form. This is no longer necessary. Instead go to the Special Features page and set the "Thank You Message" option to "Display Message" and type the message you would like to present into the box below. You can then re-use your thank you page for normal content. You may still wish to have a dedicated Thank You page if you want to show images or include downloadable attachments to your enquirer.
Previously you needed your designer to modify the auto-responder message or the email destination for enquiries. This is now under your control in the Special Features page, which makes it much easier to set an out of office response while you are on holiday.
The sidebar "Click here to email" message had previously been fixed to go to the standard Email Contact Form. You can now set it to go to your custom PHD Form.
The content submitted to the form is now encrypted to enhance security