The Elements of Success
For your website to bring you new clients it needs to achieve 2 things.
it needs to be found and visited by your potential clients
it needs to encourage any visitors to make contact.
In both cases, more is generally better, but beware of the weakest link. In other words, it would be of little use putting a huge amount of energy into say, getting found, if the content or presentation style of your website is uninviting.
Getting Found

If you are gaining prominence on Google (by far the most important place where people search the web), then you are fairly certain to be getting found.
If you want to double check that people are finding your website, then take a look at the reporting section of your Administration Area. To do this, just log in with your normal password, and click on the link in the left hand column which says Analyse visitor activity . The reports will tell you how many pages have been viewed by visitors every day.
Encouraging Contact
"If this is lacking, you may get few or even no enquiries"
If you are starting to gain a good (i.e. first 2 or 3 pages) listing on Google, or even if you are still in the waiting period for that (see Waiting for Google), the visual appeal and "persuasiveness" of your website is a very important element for a successful website. If this is lacking, then you may get few or even no enquiries. So how do you encourage contact? Here are 5 simple tips:
Make a good first impression, with tidy uncluttered layout
Give reassurance quickly with your home page opening paragraphs
Encourage your visitor to read what you have to say
Use your other pages to demonstrate your experience and credentials
Invite the visitor to make contact
Later in the guide you will find further detail on some of these points, and hopefully these guidelines will help you prepare more effective web pages. Before moving on though, you may be thinking that you have already done some of this, perhaps instinctively if not in quite so structured a manner. If so, it might raise the question "how do I know if I've done enough - how do I know if people do like my website?". Fortunately on the web, there are ways to measure this, to a useful degree.
How do I know if people like my website?
On the web, every click of the mouse tells a computer somewhere to do something, and with that information you can often learn useful things about what people think of your website. As well as simply showing pages viewed, the visitor activity section of your administration area includes this extra information. First though, its worth remembering that just like a paper brochure, your website is simply helping you, as one human being to communicate to another, your visitor, and hopefully reassure and persuade them to take some action like contacting you for more information.
"ask colleagues, friends, and also clients"
So as well as using the technology, make sure you ask for comments and feedback from some real people - friends, colleagues and also clients if possible.
Anecdotal feedback such as this can be very useful, as there may be some specific element or choice of wording that you might not realise is putting people off. In addition, the visitor reports can be very useful. Go back to your visitor analysis pages in the administration area of your website, and scroll down to the popularity table. If you recall the first two tips above, they were about making a good first impression and giving reassurance. All of this takes place when the visitor looks at your homepage, so you can expect that if they were not happy they would simply leave your website immediately without looking around.
If everyone who visited your website just left without looking at other pages, the report would show that 100% of your website page views would be to your home page, and 0% to all the others. The rule is that the lower the % of visits to the homepage the better, as it means people are interested and looking around. As a guideline:
50% or less for your homepage is very good
50% to 70% has some room for improvement
More than 70% suggests problems with the homepage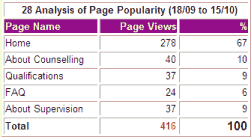 These are just guidelines, so if you have say 51% there is no real cause for concern, however in the example illustrated here the value of 67% of page views being to the homepage is quite high and we would suggest more work is needed along the lines of the 4 points above.
Improvement suggestions
There is no exact formula to follow when it comes to the style and wording of your website pages, however we have noticed over the years a number of "good practices" that are typically followed by those WebHealer clients who are most successful.
1.Photographs
It is a good idea to include a photo of yourself to personalise your website. In fact we've had feedback that some people will only contact a therapist through a website if they see a photo of them first. However it is important to use a good quality photo, in sharp focus, good lighting and with a simple background that doesn't distract. See our EZ Guide on Professional Photo Tips for more information.
2.Easy Wording

Aim for text that is easy to read, and broken up into small chunks that can be skim read, as opposed to long text-heavy paragraphs that will be daunting for many people to read. This is especially so on the homepage, although denser wording is more appropriate on your other pages. Useful methods of breaking up your text into "bite sized chunks" are:
Use of formatting such as bullet points interspersed with paragraphs of text
Including a few images* eg a photo of your clinic and possibly also some calming photos taken from nature, to enhance the look and feel of the website.
Breaking up your wording into sections, each with a clear sub-heading using our Paragraph Control Tool. Here's an example to show you what we mean:

www.sw-psychotherapy.co.uk
* Section B of our help guide has information on adding images.
3. Encourage Reading
"you have succeeded in gaining the attention of a possible client. Such attention should not be wasted."
If you have succeeded in getting someone to visit your website, and read your first few paragraphs, then you have also succeeded in gaining the attention of a possible client. Such attention should not be wasted. Yet everyone who visits your website will be different, and to some extent will respond differently to what you say. They are likely to have an initial caution, perhaps nervousness or suspicion. They could be looking for some specific information for reassurance. These areas of concern will vary between individuals, so give some good thought to all these things. "Brainstorm" them with a friend or colleague, and provide the answers in your website, perhaps using a Frequently Asked Questions (FAQ) page for miscellaneous items.
Next, remember it is up to you to help your visitor find these answers. You have their attention on the home page, so use that opportunity to point them to different parts of your website where they can find the information they need. You might say, for example: "Please visit my Qualifications page (see the link on the left) for details about my experience and credentials. If you are concerned about confidentiality or prices, you can find more information in my FAQ page". If you can encourage your visitor to read more, not only will you help them find the answers they need, but it gives you the opportunity to show that you are a professional who considers these things. This builds trust, and is essential.
4.The Personal Touch
Websites can be impersonal, so it is important to build trust with your website visitor and reassure them that there is a decent human being "behind the screen". You can do this by writing in the first person - in other words written in the style of "I am an experienced counsellor and respect my clients individual needs" as opposed to "Jane Smith is an experienced counsellor..." . It is also a good practice to use proper, well written english sentences and paragraphs rather than short pithy sentences which are in danger of reading like "sound bites". Finally, spelling mistakes can easily put people off as they indicate a lack of diligence. It is often a good idea to ask a friend to review your website and help you spot spelling mistakes, or sentences/paragraphs that could be written to read more easily. You can also use a spell checker on your website - see section A4 of the HELP guide.
5.Testimonials & Plain Language
Not everyone feels comfortable adding testimonials to their website, but sometimes a client can express appreciation for good service in a simple down-to-earth way that simply can't be written by the therapist themselves. Adding a couple of client testimonials to your Home page can therefore help make an emotional connection with your visitors and inspire confidence, such as the following:
"I can't thank you enough, I now understand myself, and feel I am in charge of my life."
One of the strengths of statements like this is that they tend to use simple language that comes across honestly. Equally it can help if you use simple layman's language when describing the benefits of what you can offer clients. Try basing this on verbal feedback that clients give you. If they report feeling "much happier", "at peace", or perhaps that they have had "a weight lifted off their shoulders", then mention this in your text.
6.Take Care with Links
Another way of providing reassurance to potential clients, is to display your professional qualifications and accrediting body, especially if this is a widely recognised and respected organisation. It can also help to create a clickable link to that organisation's website. Section D of the WebHealer help guide explains how to do this.
However if you do include links on your website, be aware of the risk that the client may follow that link and become distracted by the contents of the other website, never to return to yours. To help avoid this, it is good practice to make your clickable links open up the linked website in a separate window, and section D2 of the help guide explains how the simple addition of an asterisk (*) will achieve this for you.
Other Options
If you feel that your website would benefit from applying more of the "good practice" suggestions listed above, but are concerned about finding the time, we do have an option that you may wish to take up. We have a number of partner businesses, who work independently of us and who specialise in doing work for WebHealer clients including website make-overs to present a more professional looking website. The work can vary from adding photographs and applying formatting all the way to a bespoke redesign of your website. I have added a couple of examples of clients who have had make-overs below:

www.ngcounselling.co.uk
www.counsellingincambridge.co.uk
If you would like us to put you in touch with one of our business partners, simply email info@webhealer.net and we will find someone suitable for your requirements.