Introduction
These days top Google placement isn't the only way to reach the attention of your web audience. Social media sharing is a very powerful tool you should be considering. You don't even need your own social media accounts (although it does help) as a simple sharing button, such as a Facebook Like, makes it easy for those who visit your website to share a link to your site with their network of friends and colleagues.
You can add these buttons to your page contents anywhere you like, but in addition our most recent design Social ColourMax, takes social media integration to the next level, with the option for a built in twitter feed, prebuilt sharing buttons and links to your social media sites, such as your Facebook page, Google Plus page etc.
In this guide we'll explain how to add these social media features, as well as sharing a few tips on how to make the most of them, and how to give your visitors a reason to connect with you.
Don't forget the why!
Just a quick word before you dive in. Although social media features are easy to add, they are only useful if visitors click them, so its worth considering why they should. For example a limited time special offer or discount might encourage sharing. If you are a counsellor, this kind of promotion may not feel appropriate but consider offering some material that visitors may view as acceptable to share such as tips on handling work place stress.
A final suggestion which would appeal almost universally to visitors and inspire many to share your website link would be to support a charity. A good example would be our WebHealer brand's annual Samaritans campaign to support their Feel Good Friday fundraising event. For more details just Google Feel Good Friday.
Like button - Facebook

The power of a Facebook Like button is that any visitor with a Facebook account, who likes what they see on your website can instantly share your webpages with their social network.
The value of this is fairly obvious, as it means every visitor has the potential to be a kind of mini journalist, publishing a story about your website to their readership. The Like button is a very simple feature to add on to a WebHealer website, and for those of you who aren't fans of Facebook yourselves, you don't need a facebook account of your own to add a Like button.
You don't need a Facebook account to add a Like button to your website pages.
Before we explain how to add the button, you may wish to know (especially if you aren't used to Facebook) what happens when people click on the button and also how your website details are used and shared.
What do you see?
Firstly you will spot that after adding the button you will see the familiar Like button appear where you choose to place it on your web pages, however unlike the image above it will show the number 0 alongside, meaning that no-one so far has Liked this website. After other people click it, the number will increase, and that is all you will see on your web pages.
What does your visitor see?
The visitor will also see the counter in the same way as you, but when they click the Like button they will get a pop-up inviting them to make a comment, and post their message to their own Facebook activity and news feeds.
NB: Facebook Like functionality has changed since we added the Like plugin and no longer creates a pop up inviting comment. It will increase the counter and may add a notification to someone's Facebook page at the bottom under 'Recent activity' but it can put a notification in other places. Facebook decides what it wishes to do depending on its algorithm.
Choosing the logo
If you were to add a Like button to your website right now, the logo displayed on your visitor's Facebook page would be the WebHealer logo. You will most likely want to change this though. Even if you don't have a logo of your own, you may wish to use one of the images from your website. To set the logo, simply follow these 3 steps:
Log in to your website's Administration Area
Select the Special Features page from the menu on the left
Edit the Facebook Like Image entry and choose an image from your website's image library
If you want to use an image not currently shown on your website or displayed in the image library, you will need to add it first.
Finally... How to add the Like button
We deliberately left this all important piece of information to last, as its much better if you have already chosen your logo before adding the Like button. If you don't then anyone who Likes your website prior to you choosing a logo, will see the WebHealer logo, and this won't be replaced by your own logo once you set it using the steps above. i.e. Facebook sticks with the one it found when Like was clicked. Once this is all done, you can add a Like button anywhere you wish in the content area of your website pages by typing the following code into your text editor: <FB>
<FB>
put this code anywhere on your main pages, and it will be converted into a Like button when your web pages are viewed.
How can you get more Likes?
Of course people will need a reason to Like your website. If you offer a great sounding service or have appealing testimonials, then that might be enough. As a rule though, people share things they find interesting or feel supportive of, so if you are doing something special, say supporting a charity, then your chances of getting Liked are much higher.
Follow Me button - Twitter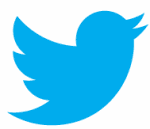 Placing a Like button on your website, gives you a one-off chance that a website visitor might like what they see, so that even if they don't need your service, they may choose to share it with friends who themselves do. By setting up a Twitter account though, you can go to the next level by having visitors sign up to follow your activities on an ongoing basis.
Of course this works better if you do tend to make changes or try out new things on a reasonably regular basis, so if that is not the case then you may wish to stick with the Like button. Another point to make is that you do already need to have a Twitter account before you can use this button. If you don't have a Twitter account and aren't sure whether you would like to set one up, then we would suggest discussing it first hand with friends who already have done. The pros and cons of this are a personal decision which WebHealer can't advise you on. One thing we would say though, is that you don't need to set up the account in your own personal name. You could do it in the name of the business, and so keep your work activities separate from your personal.
How it looks
Once you have added a Follow Me button to your website, it will simply appear amongst your text as below, again using the WebHealer example - @webhealer_net is our WebHealer brand's Twitter account.

Your visitors will then be able to click this and get the chance to follow your activities on Twitter.
How to add the button / Store your Twitter account name
The first step is to store your Twitter account name in the Administration Area so that the system knows who the Follow Me button should be set up for. As previously, this is an easy 3 step process:
Log in to your website's Administration Area
Select the Special Features page from the menu on the left
Type your twitter username into the Twitter Username box (don't include the @ symbol)
Once that is done, you can add a Follow Me button anywhere you wish in the content area of your website pages by typing the following code into your text editor: <TW>
<TW>
put this code anywhere in your text, and it will be converted into a Follow Me button when your web pages are viewed
Subscribe Me button - Email Newsletters
The third and final button you can add to your website is a Subscribe Me button which allows your website visitors to request a subscription for a periodic update of news - which of course you would need to write. Email newsletter systems are a specialist area and you will need to sign up with a 3rd party service to use this option. A very popular option is MailChimp.
Social ColourMax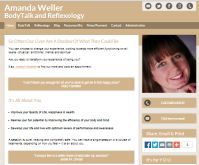 Our Social ColourMax design comes brimming with social media features as standard, without the need for you to add them manually. Click the image on the right to see an enlarged screenshot of a client website using Social ColourMax.
Here's a quick run down of the social media features built into our Social ColourMax design:
In the top right is the Social Links bar, which includes links to all your social media pages - Facebook, Twitter, Google Plus. When a visitor clicks these links, they are redirected to your social media pages
The Share, Email & Print section in the Sidebar allows visitors to share a link to your website with their friends, colleagues and followers via their own Facebook or Twitter page as well as many many more social media sharing websites
Also in the Sidebar is a live Twitter feed, which shows your own latest tweets and the option for visitors to follow you
In the footer of every page is a Facebook Like button and a Twitter sharing button allowing visitors to share a link to your website with their followers
How do I switch these features on?
Most of the above features are automatically available, however some require configuration. In order to see the live Twitter feed and to enable the link to your Twitter page you need to store your Twitter account name in the Special Features section of your website.
The other links which are not automatically enabled are those in the Social Links bar which go to your Facebook page and your Google Plus page. Please email WebHealer support with links to either your Facebook or Google plus page, and we will store these for you.