Repeating the success of 2012
In 2012 over 110 WebHealer clients supported the Samaritans Feel Good Friday event, and raised many hundreds of pounds for their vital work. Not only was this good for Samaritans, but all clients who took part were intensively promoted via their inclusion on our Feel Good Friday Therapy Map 2012, which resulted in more website visitors, a raised profile and for many an increase in business. Here is just one of the comments we received from clients who took part.
"For me personally it was the first time I have taken part in anything like this and I was amazed by the response - to the extent that I had to extend my Friday to the day before!"
Amanda Weller www.quantumbeing.co.uk
You will probably agree that sounds good, but do you have the time? Our section below on how to get involved shows how surprisingly easy it is, but first read on to find out about further benefits.
Additional benefits - Google likes it too!
Although everyone's main aim is to help Samaritans, at WebHealer we are always on the look out for ways to promote our clients' businesses. Putting our clients on the map is a very important part of this, so our first goal in 2012 was to get the map to the top of Google, which of course we did. Why not try Googling "Feel Good Friday" now, and you'll see the new page near the top of page one already for 2013.
But that is only part of the story. Due to our promotional work, Google liked our 2012 Feel Good Friday map so much, that any client who was shown on it got a boost on Google for their own search phrases. And this wasn't just a short term gain - WebHealer checked all client Google listings in November 2012, and on average everyone who was listed on our Feel Good Friday Therapy Map 2012 was listed 3 places higher up on Google than those who were not on the map.
WebHealer checked all client Google listings in November 2012. On average everyone included on our Feel Good Friday Therapy Map 2012 was listed 3 places higher up on Google than those who were not on the map.
This was no accident of course. We deliberately created the therapy map in a way that would allow some of the Google "goodwill" of the therapy map to pass to our clients' websites, and we're doing the same for our 2013 map.
Show clients you care - whatever your area of therapy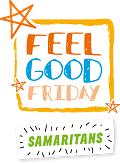 A final benefit of supporting Samaritans Feel Good Friday event is that it communicates a simple but important message to anyone landing on your website, namely that you care. As part of your participation, we ask that you add this logo to your home page, so it is immediately obvious to anyone who visits.
Your participation can be as high profile or as low key as you like. A counsellor, for example, may prefer a simple statement that they are supporting Samaritans on February 1st. A complementary therapist may wish to make a bolder statement and link the event to promotional offers to enhance the marketing potential.
Either way your support of this event shows your website visitors that you care, and reinforces an image of professional integrity.
2013 - Even better than 2012
Even though we were delighted with the outcome of the 2012 Feel Good Friday event, we want 2013 to be even better, so we've made two important changes. Firstly we have hired professional public relations firm Eaton Creative to help us promote the therapy map and all clients on it. Eaton Creative have helped organisations like The National Trust and the Outward Bound Trust, so they have the right experience for this campaign. Secondly, WebHealer will match all the funds raised by clients, so that for every £1 you raise WebHealer will give Samaritans £1 as well*.
For every £1 raised by our clients for Samaritans, WebHealer will match funds and pay an additional £1 to Samaritans directly.*
* Please note that we can only match funds that are contributed to Samaritans centrally with an attached money return form.
Its easy to get involved
We've made the process of getting on the map extremely simple. All you need to do is log into your website's administration area and select the "Feel Good Friday" option from the menu on the left hand side. You simply enter your postcode and a couple of sentences describing your location and therapy. You will first need to display the Feel Good Friday logo on your home page, but the logo is already in your pull down image list. In fact the most complicated part is to send any funds raised to Samaritans at the end - you might need to buy a stamp!
If you do want to do more, then of course you can. A letter to your local newspaper or a flyer in the supermarket will help, but that's all up to you, depending on how much time you have.
Help us spread the word - Like our map and Tweet about the event
To make this the success it deserves to be, we need as much publicity as possible. If you are getting involved, or even if you can't, please use whatever social media you are familiar with to help.
Do you have a Facebook account? Please visit the WebHealer Therapy Map and Like the page
Do you have a Twitter account? Please visit the WebHealer Therapy Map and click the Tweet button to tell your followers
Finally please ask your friends to Like the page and Tweet about it