The importance of this guide
When transferring a domain name (effectively your website address) to us, you continue to be the legal owner of the name of course, but the transfer does involve a change to the computer systems which manage the domain name and potentially your email system too.
Some website companies are happy to leave the domain name where it is but this leaves a gap in our ability to quality control and monitor all aspects of your website performance and availability, which is something we take very seriously. We run parallel data centres and a number of levels of backup and failsafe procedures and in order for all these to work we need to be able to administer all aspects of your domain name via our supplier's systems.
This is all behind the scenes, and we'd really rather not trouble you with it, however it does impact how your email is managed and that is why we need to raise the matter now.
Transferring your existing email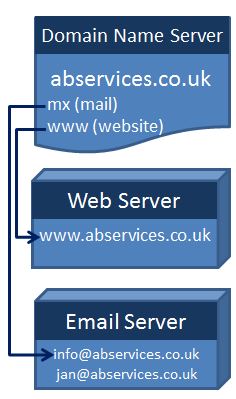 There are variations in the way that emails get processed, but if you have an email account that goes with your existing domain name, the chances are that you have been provided with an IMAP or POP3 mailbox by your previous internet supplier/web company or domain registrar. This mailbox runs on a mail server (a server is just a specialist computer) which is separate to your existing web server.
If you move your website to us you will be using our web server and for quality control reasons explained in the introduction you would also use our domain name server (DNS) and domain registrar/renewal service. For similar quality control reasons you will also need to use one of our email solutions. In fact very often when you move your domain name away from an existing supplier the supplier will close down your mail service along with your website service.
Although we have a number of email solutions available, if you have an existing mailbox we strongly recommend that you take our Advanced Email Service option.
Click here for our Advanced Email Service guide which will guide you through the transfer process in a cautious and step by step manner in order to make sure all your old emails are retained and remain available on your new email service.
If you know for sure that you do not have a POP3/IMAP account, but instead have simple email forwarding then please let us know, as this makes the transfer easier. See our
Email Solutions
guide for more information.
Google Apps and Microsoft Office 365
Although primarily of interest to larger businesses, if you do use Google Apps or Microsoft Office 365 please tell us so that we can investigate the implications for domain configuration.
An easier alternative
If all this seems a little too complicated and daunting there is an easier option which clients often take. Instead of moving your website/domain/email etc to us, let us register a new domain for you. Very often there is a very similar domain name available. In the above example we might register www.ab-services.co.uk and run that for you instead.
Of couse you still want people who visit www.abservices.co.uk to see your website and that can be achieved with web forwarding. You would ask your current host or domain registrar to set up web forwarding from www.abservices.co.uk to www.ab-services.co.uk. In this scenario, as we will be promoting your new website address www.ab-services.co.uk, Google will in time see and list it as the "real" one, with your old website address just being another way people can access it.